Pyramid Gold Project – The next phase
The growing understanding of the structural setting and geochemical footprint of Gettysberg suggests that further exploration is warranted across the broader Pyramid Gold Project.   The project area has been divided in to the West Pyramid Range, which has been the subject of the majority of past exploration activity, and the East Pyramid Range, which is relatively underexplored.
Results of previously reported soil surveys (see ASX Announcements on 20th April 2015 and 2nd June 2015) show that the 6 km West Pyramid Range structure is potentially mineralised from the Sellheim Prospect in the north, through Gettysberg to Marrakesh and Pradesh.  The results from the drilling completed to date in the project area (Gettysberg, Sellheim, Marrakesh, etc.) have confirmed the potential for this 6 km West Pyramid Range structure to contain zones of higher grade mineralisation. Further analysis to determine the controls to higher grade mineralisation will be required prior to follow-up drilling at some of these prospects.
The East Pyramid Range Area
The geology of the East Pyramid Range is quite distinct from that of the West Pyramid Range. The East Pyramid Range is associated with a porphyry dike complex with several orientations of dikes. The main orientation is approximately NNE-SSW, parallel to the main topography of the range. Most of the dikes are located in the Ukalunda Formation, although southeast of Sugarloaf Hill and Breccia Knoll, they clearly intrude the St Annes Formation along a NW trending fault. Many of the dikes curve into a more NW orientation at their southwestern ends. Southwest of the Pyramid Range a large ring dike terminates southeastwards against what appears to be a WNW trending fault.
Previous Exploration
The last time that the highly gold prospective East Pyramid Range was investigated by explorers was approximately 25 years ago in the early to mid 1990's. Dalrymple Resources NL and Newcrest Mining Limited (Newcrest) carried out over surface geochemical sampling, geological prospecting and mapping programs which identified gold and base metal bearing high level intrusive related targets sharing similar surface expressions, mineralization and alteration settings to the large scale, bulk tonnage gold systems of north Queensland, for example Mt Leyshon, Mt Wright and Kidston.
Over 20 years ago, Newcrest carried out ridge and spur soil sampling, west of Breccia Hill which was successful in identifying a gold and base metal soil anomaly related to a north east trending gossanous quartz zone. Pyrite sericite alteration which oxidises to a gossanous jarosite bleached stock work zone at surface is developed over a strike of a least 500m. The system is definitely gold bearing. In a similar fashion to elsewhere (eg Gettysberg) veining and stockworking are more strongly developed in the more competent sandstone units. The zone was drill tested with a few wide spaced holes which although encouraging in terms of base metals and alteration, only returned low order gold values.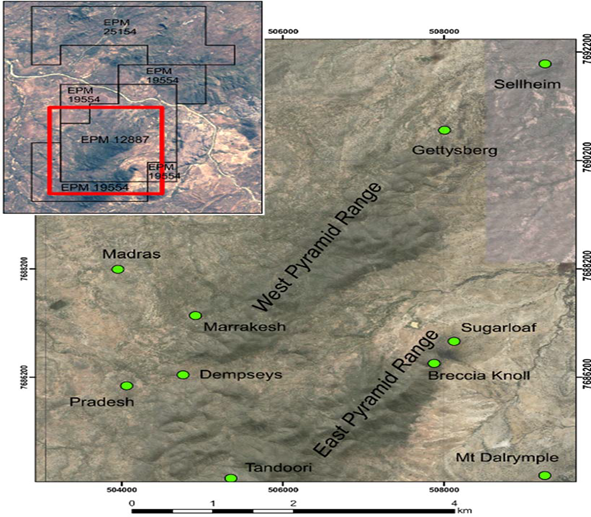 Figure 1. Location East Pyramid Range in relation to Pyramid Project area.
The East Pyramid Range region includes the Breccia Hill to Tandoori (breccia) trend, which is prospective for intrusive related mineralisation with a number of rhyolite plugs / dykes and breccias identified from previous geological mapping and prospecting.  This portion of the Pyramid Gold project has been subjected to limited past exploration activity, with prospecting / rock chip sampling and limited soil sampling leading to the completion of minor "wild-cat" exploration drilling.  The Company proposes to complete a methodical prospecting and surface sampling program, which will incorporate all past exploration activity, aimed at identifying high level intrusion related style gold mineralisation targets, similar to the Mt Leyshon and Mt Wright models.
Proposed Soil Sampling and Geological Prospecting of the East Pyramid Range
In order to delineate geochemical anomalism and drill targets in the East Pyramid Range area, Avira proposes to conduct a surface sampling program to cover the Tandoori to Sugarloaf area, in a similar fashion to the 2014 coverage over the West Pyramid Range area. The key components of the latter survey were sieved soil samples at a 200m line spacing x 50m sample spacing, which delineated gold target areas and multi-element metal zoning along the 8km strike length of the West Pyramid Range (see Figures 2 and 3). .Sieved soils (-80 mesh) where analysed for low level gold (fire assay ICP) and multi elements by portable XRF (PXRF). The 2014 survey and other historical soil surveys are shown in Figure 4 below with an outline of the proposed area.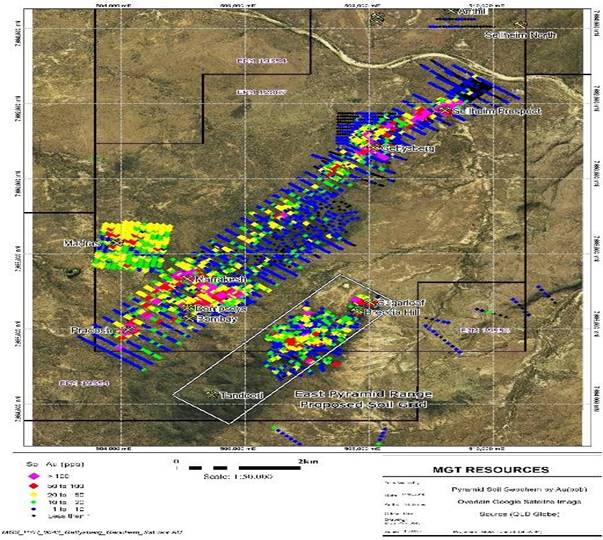 Figure 2. Au (ppb) in historical soil sampling West Pyramid Range including adjacent areas at Madras & Sellheim. Wide spaced ridge & spur sampling East Pyramid Range. Google Earth base.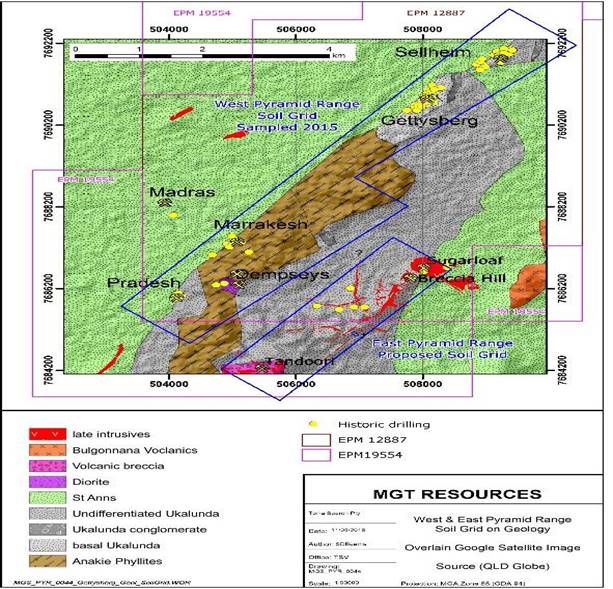 Figure 3. 2014 West Pyramid Range soil grid plotted with Proposed East Pyramid Range soil grid. Geology base.
Avira proposes a geochemical survey at the East Pyramid Range area to cover the breccia, porphyry intrusions and identified surface gold zones from Tandoori to Sugarloaf with line spacing of 200m and 50m sample spacing resulting in 550 soil samples. Geological prospecting will follow up targets with rock chipping of an estimated 85 samples with standards. This program will provide Avira with additional data to determine and identify potential drill hole targets for a potential follow-on drilling campaign.
Forward forward-looking statements
This information contains forward-looking statements which are identified by words such as 'may', 'could', 'believes', 'estimates', 'targets', 'expects', or 'intends' and other similar words that involve risks and uncertainties. These statements are based on an assessment of present economic and operating conditions, and on a number of assumptions regarding future events and actions that, as at the date of this announcement, are expected to take place. Such forward-looking statements are not guarantees of future performance and involve known and unknown risks, uncertainties, assumptions and other important factors, many of which are beyond the control of the Company, the directors and our management.  We cannot and do not give any assurance that the results, performance or achievements expressed or implied by the forward-looking statements contained in this prospectus will actually occur and investors are cautioned not to place undue reliance on these forward-looking statements.  We have no intention to update or revise forward-looking statements, or to publish prospective financial information in the future, regardless of whether new information, future events or any other factors affect the information contained in this announcement, except where required by law. These forward looking statements are subject to various risk factors that could cause our actual results to differ materially from the results expressed or anticipated in these statements.
CompetentPersons Statement
The information in this website that relates to Exploration Results is based on and fairly represents information and supporting documentation prepared by Mr Ian Prentice. Mr Prentice is a consultant geologist for AVW and a member of the Australian Institute of Mining and Metallurgy. Mr Prentice has sufficient experience relevant to the styles of mineralisation and types of deposits which are covered in this announcement and to the activity which they are undertaking to qualify as a Competent Person as defined in the 2012 edition of the 'Australasian Code for Reporting of Exploration Results, Mineral Resources and Ore Reserves' ("JORC Code"). Mr Prentice consents to the inclusion in this announcement of the matters based on his information in the form and context in which it appears.